İstanbul da İlk Ezan Sesleri
Ocak 14, 2022
The Forum Cemberlitas
Ocak 14, 2022
The last monument which was erected in Istanbul,Historical Hippodrome; The German Fountain
The fountain that its dome was made from gold.
It was brought by carrying from the German.
It is the last monument which was erected in Sultanahmet.
Come to Istanbul and live the history in Hippodrome from the Egypt to Greece ,from the Ottoman to Europe.
The last monument that was erected in Hippodrome.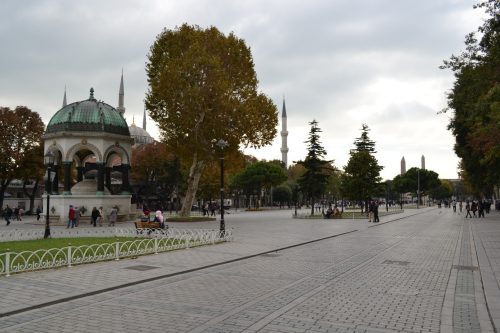 It is the last monument that was erected in Istanbul Sultanahmet Square with the old name of ''Hippodrome''.The fountain which was given as a gift by the German Emperor Wilhem,has politic meanings. When the emperor first arrived in Istanbul,he had sold the riffles of the Ottoman and Germany.For the second time ,he got promised out that giving the Baghdad Railways to the German Firms.As it seen in a war of sharing, the Ottoman and Germany were played ball with together.
The Hippodrome starts with the German Fountain.
The fountain is the first structure at the entrance from the North ,which  also known as the Hippodrome. The Obelisk,Serpentine Column and the Stone Masonry which are always wait for thousand of visitors.One the one side,there is tomb of the first Sultan Ahmet on the other side,there is Ibrahim Pasha,the Museum of Turkish Islamic Arts.
The fountain that was moved to Istanbul from Germany.
The fountain that was started its construction in eighteen-ninety nine,was opened on January twenty-seven,nineteen-oh one  which was the second William birthday.The plans of the fountain were drawn by the architect Spitta and its construction was made by the architect Schoele.The architect Carlitzik and the Italian architect Joseph Antony have contributed to the construction of the fountain.The fountain was made in Germany and was placed by carrying to Istanbul.
The Architecture of Fountain.
The fountain that was placed on the high base floor is octagonal.There is dome that eight columns carrying the above the water reservoir. There are medals on the arches that splice the columns together.There is the second Abdulhamit's tughra in the four and there is the second number under the letter ''W'',which is the symbol of Wilhelm.
It is written on the fountain's epitaph as German that ''The German Kaiser Wilhelm,the second has made the fountain in eighteen-ninety eight autumn which as gratitude commemoratively for the Ottoman Emperor,Majestic the second Abdulhamit.
You can find our suggestions about the Historical Peninsula in our site.We have worked carefully for you and we have tried to present the finests ever.